HISTORY OF THE SCHOOL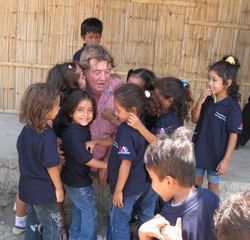 James (Jimmy) Byrd is a U.S. Navy veteran who retired to Canoa, Ecuador; after a few years in Costa Rica, in 2000. He opened a small restaurant on the beach and settled in for the long haul. Over the years he quietly helped numerous poorer families in Canoa send their children to school by paying some of the expenses. To attend school in Ecuador the costs that the poor can not afford.
In 2006, he and others, including some of the parents, help start a bilingual school to help better educated the children and help prepare them for the increasing tourist business's there were replacing fishing as the main industry in Canoa.
In 2008 the school opened with Kindergarten and first grade. It has since added a new grade every year, as of right now the school currently has Kindergarten through 6th grade. This year starting in April of 2014 currently has 93 students. This requires continuing funding from sources around the world.

---
Please help us keep children in school with a scholarship donation.