HISTORY OF THE SCHOOL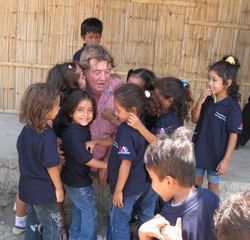 James "Jimmy" Dean Byrd

Jimmy is the founder of Los Algarrobos School. After 20 years in the Navy and 22 in the Merchant Marines, he finally retired to Costa Rica. He had spent several years in Costa Rica when he traveled to Ecuador and found that he loved little Canoa. He moved here permanently in 2001 and found himself part of a community where many children were not able to study adequately because they could not afford books and uniforms. He began by sponsoring 9 students. In general, he saw a need for a more structured education and was inspired to open his own school.

He created the James Dean Byrd Foundation in 2007 with the principal objective to raise money to create a school. Los Algarrobos School was founded in 2008. Since then, we have completed the following projects:

1. Bilingual Education (2008-2013): The school was founded as a bilingual school (English/Spanish) in 2008. It started with two classes for 5 and 6 years olds. Each year another class was implemented until 2012 when it became a complete elementary school, including kindergarten through grade 6.
2. Computer Laboratory (2013): In 2013, the school was able to create a small computer laboratory with ten laptops. However, since the laptops were already used, they are now in disrepair and the project is suspended. See our "How to Help" page to learn more about our campaign to bring it back!
3. Library (2014): In 2014 what started as a small collection of educational books and stories became a full library, occupying a whole classroom.
4. Maintenance, Reconstruction and Expansion (2015 - present): In 2015, the roof of two buildings required maintenance, and after the 2016 earthquake, three classrooms were damaged and one needed to be rebuilt. We also hope to build another classroom to expand our computer laboratory and projector space.
---
Please help us provide more opportunity with a scholarship donation.