The mission of the
Escuela Bilingue Los Algarrobos
and
the James Dean Byrd Foundation
The goal of Los Algarrobos: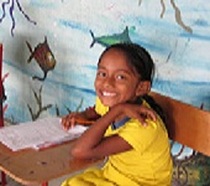 To facilitate children becoming global citizens through language and knowledge in an atmosphere of inquiry and responsible actions. In order to provide a learning environment for children to become bilingual, respectful and responsible, La Escuela Bilingue los Algarrobos will:



Provide small classroom size to encourage individualized education and learning through critical thinking.
Offer nutritious lunches daily to support healthy living.
Inspire respect, responsibility, citizenship and compassion through positive interactions with all students, parents and teachers.
Implement programs of intercultural exchange, experiential learning, and life skill development.
Teach the English language by native-speaking, trained teachers.
Maintain a safe and healthy learning environment where children can play, be self-expressed and enjoy their education.
Maintain fiscal responsibility so that a child's education presents no hardship to families.
---